review by Eduardo Villar for Clarín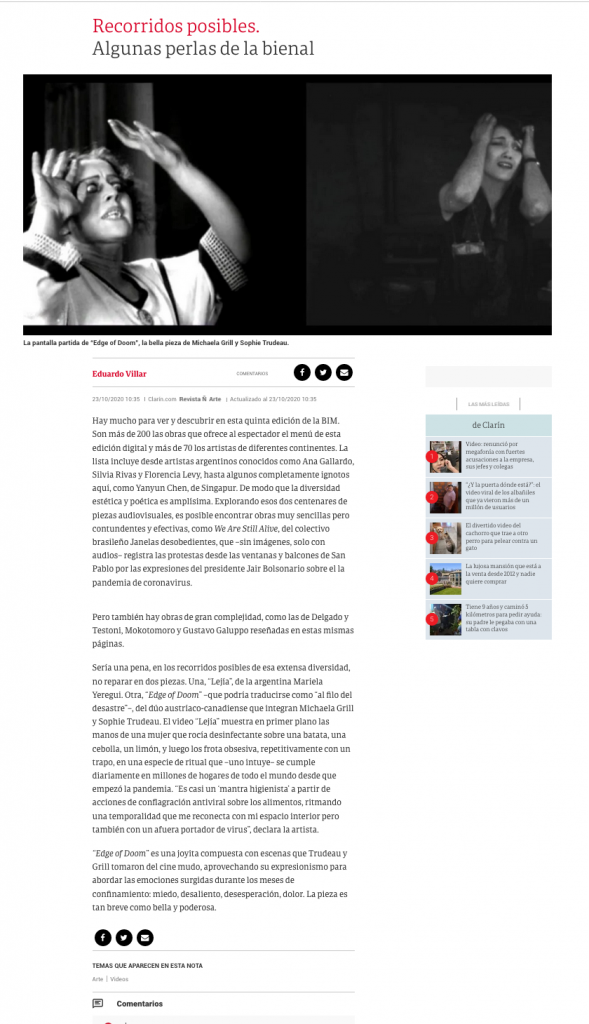 Translation:
Possible routes.
Some pearls of the biennial
There is much to see and discover in this fifth edition of BIM. There are more than 200 works offered to the viewer by the menu of this digital edition and more than 70 artists from different continents. The list ranges from well-known Argentine artists such as Ana Gallardo, Silvia Rivas and Florencia Levy, to some completely unknown here, like Yanyun Chen, from Singapore. So the aesthetic and poetic diversity is vast. Exploring these two hundred audiovisual pieces, it is possible to find very simple but forceful and effective works, such as We Are Still Alive, by the Brazilian group Janelas disobedientes, which –without images, only with audios– records the protests from the windows and balconies of San Pablo for the expressions of President Jair Bolsonario about the coronavirus pandemic.
But there are also works of great complexity, such as those by Delgado and Testoni, Mokotomoro and Gustavo Galuppo reviewed in these same pages.
It would be a shame, in the possible routes of this extensive diversity, not to notice two pieces. One, "Lejía", by the Argentine Mariela Yeregui. Another, "Edge of Doom" –which could be translated as "on the edge of disaster" -, by the Austrian-Canadian duo of Michaela Grill and Sophie Trudeau. The video "Bleach" shows in the foreground the hands of a woman who sprays disinfectant on a sweet potato, an onion, a lemon, and then rubs them obsessively, repetitively with a cloth, in a kind of ritual that –one intuits– is fulfilled daily in millions of homes around the world since the pandemic began. "It is almost a' hygienist mantra 'based on antiviral conflagration actions on food, rhythmizing a temporality that reconnects me with my interior space but also with an outside that carries viruses," the artist declares.
"Edge of Doom" is a gem composed of scenes that Trudeau and Grill took from the silent film, taking advantage of their expressionism to address the emotions that emerged during the months of confinement: fear, discouragement, despair, pain. The piece is as short as it is beautiful and powerful.